Shipping
Free Love. Shipped Right To Your Doorstep.
When you buy from us, you just want to pay for your brand new, shiny case - not other weird add-on costs. That's why Head Case offers free shipping worldwide. That's right, we'll ship you the cases you love. Fast and free. The customer love is free too
UK Customers - Shipped via Royal Mail 1st Class Post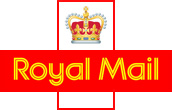 Waiting is boring. That's why we ship UK orders the next working day via Royal Mail 1st Class delivery. So perk up, Buttercup, because your package will arrive soon - usually in just 3 - 5 days.