Our People
Our Fearless Leaders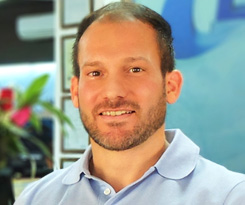 Cem Celikkol
CEO & Co-Founder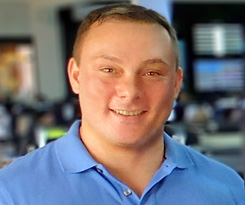 Tim Celikkol
Director & Co-Founder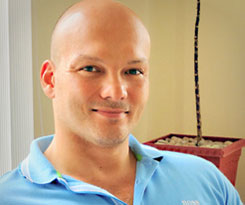 Murat Celikkol
Director & Co-Founder
Name: Cem Celikkol
Position/Title: CEO & Co-Founder
Date Joined Head Case: 2005
---
Cem is the CEO, Co-Founder and man in charge at Head Case. FEAR HIM.
Just kidding!
When this all-around nice guy isn't busy globe-trotting with his two brothers/co-founders or hangin' with his three awesome dogs, he's keeping this company thriving. Always with his eyes on the Prize, Cem's main responsibility is to push Head Case into the future. And boy, has he.
In just a few short years, Cam has overseen the launch of the Head Case brand, has helped create the impressive, state-of-the-art manufacturing facility in the Philippines, and has set up offices all over the world.
In other words, by the time we mortals have poured our morning coffee, he's probably already accomplished 6 major things for the day. We'd be jealous if we weren't so damn impressed.
Name: Tim Celikkol
Position/Title: Director & Co-Founder
Date Joined Head Case: 2005
---
If while heading to our UK office you happen to be passed by a blur of chrome, that's most likely our Harley-riding Director and Co-Founder, Tim. Every day, Tim is focused on Head Case's online market place listings and ensuring all our customers are 100% satisfied. And as you can tell, he likes to go fast.
We're pretty sure that's why Head Case's success has accelerated at such a break-neck speed.
After all, Tim is the one who started it all. As a cash-poor university student in 2000, Tim began selling mobile phone cases and accessories in a tiny kiosk at Preston Market. During the week, he would then sell excess inventory on Ebay. Well apparently that method took off, because today Head Case is one of the biggest sellers of custom designed phone cases, and has become one of the top 10 global sellers on Ebay.
So where do we go from here? Under Tim's leadership we know one thing: no matter how much more we grow or what we accomplish, it's gonna be a fun and wild ride.
Name: Murat Celikkol
Position/Title: Director & Co-Founder
Date Joined Head Case: 2005
---
While most people like to keep family out of their business, Murat loves to work with co-founders Cem and Tim everyday. They're kind of like The Three Amigos, except they're hermanos. And British.
When he's not talking business with his bros, Murat is busy continuing improvements on Head Case company processes and managing daily operations. His enjoys that his Director position takes him around the world on company business, which leads to all sorts of exciting adventures. In fact, his fondest Head Case memory is when he arrived in China for the first time. There, he had to establish a new company branch without speaking the language or having a deep understanding the culture and business environment. Luckily, Murat didn't have to speak Chinese to be able to bond with his new team over one of his main interests – cool technology!
Murat's curiosity, enthusiasm and passion for what he does makes him a strong leader in the company. It also makes him a dude that people just want to know and be around. After all, how many big wigs do you know who can fully admit that once in awhile they take a look at the beautiful bright blue sky and think…"wow!"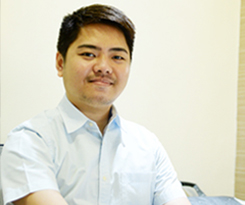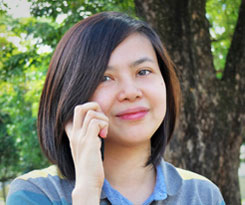 Ann Peralta
Customer Service and Sales Fulfillment Manager
Name: Drew Ramos
Position/Title: Head of IT
Date Joined Head Case: 2009
---
Our Head of IT is known to everyone as a simple guy with a smiling face. Drew, as fondly called by his pals, is a go-getter, living his life to the fullest.
Drew strongly believes in doing his responsibilities with integrity, making him a positive role model to everyone in the company. He is responsible for managing the entire engineering organization within Ecell.
When he's not busy at work, you will find him spending his quality time with his two beloved Shih Tzus.
Name: Ann Peralta
Position/Title: Customer Service and Sales Fulfillment Manager
Date Joined Head Case: 2008
---
Ann, our animal-loving, coffee-drinking Customer Service and Sales Fulfillment Manager, is a "doer". Every day, she does a dizzying amount of tasks, including taking care of our customers requests, and ensuring that orders are delivered on time as promised. She's so good at it that she's also developed all the process we use to make sure other have the change to keep our customers happy too. Most of all, she does a great job!
When asked what she likes most about working at Head Case, Ann says "I like the people I work with. You have a chance to make a difference here, and our directors give us the freedom to manage our teams to reach our goals."
Why thank you, Ann. We think you're pretty cool, too.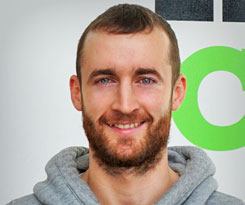 Ant Faulder
UK and Overseas Manager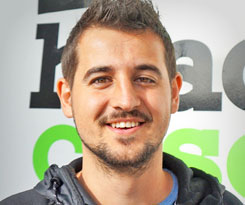 Dax Hoogerwerf
UK Manager
Name: Anthony Faulder
Position/Title: UK and Overseas Manager
Date Joined Head Case: 2008
---
Anthony is the UK-based Overseas Manager for Head Case. Aside from his uncanny ability to run the UK office smoothly and efficiently, he also possesses a quality that is most rare amongst Englishmen: his appreciation for American football. Yes, this Brit not only roots for his Blackburn Rovers at home, but also shares a love for the New England Patriots.
Perhaps it's Anthony's ability to balance seemingly opposite qualities that makes him so easy to work with; he's both a soccer fan and a football fan, a humble yet assertive leader, a colleague and a friend. All these skills have enabled Anthony to work his way up through the company over the years, and we can safely say the sky's the limit with this guy. Even if he did tell us "darts" is also a favorite sport.
Note to Anthony: Darts is not a sport – it's a drinking game.
GO Pats!
Name: Dax Hoogerwerf
Position/Title: UK Manager
Date Joined Head Case: 2008
---
Dax is many things: a member of the Head Case family, an amazing manager, and a Liverpool Football Club fanatic.
As one of the original members of the Head Case team, he's witnessed a small family company grow into an exciting, worldwide operation. Today, he keeps everything running smoothly and manages a lucky team in the UK. When he's not improving processes to make both our employees' and customers' lives better, Dax can be found on the football field or with his wife and adorable daughter.
When asked what he likes most about his job, Dax says "I love working in a friendly environment where we have the freedom to express our own personalities in any given role."
Stop it, Dax. You're making us blush.